Fire Hydrant Bylaws You Should Know in Alberta & BC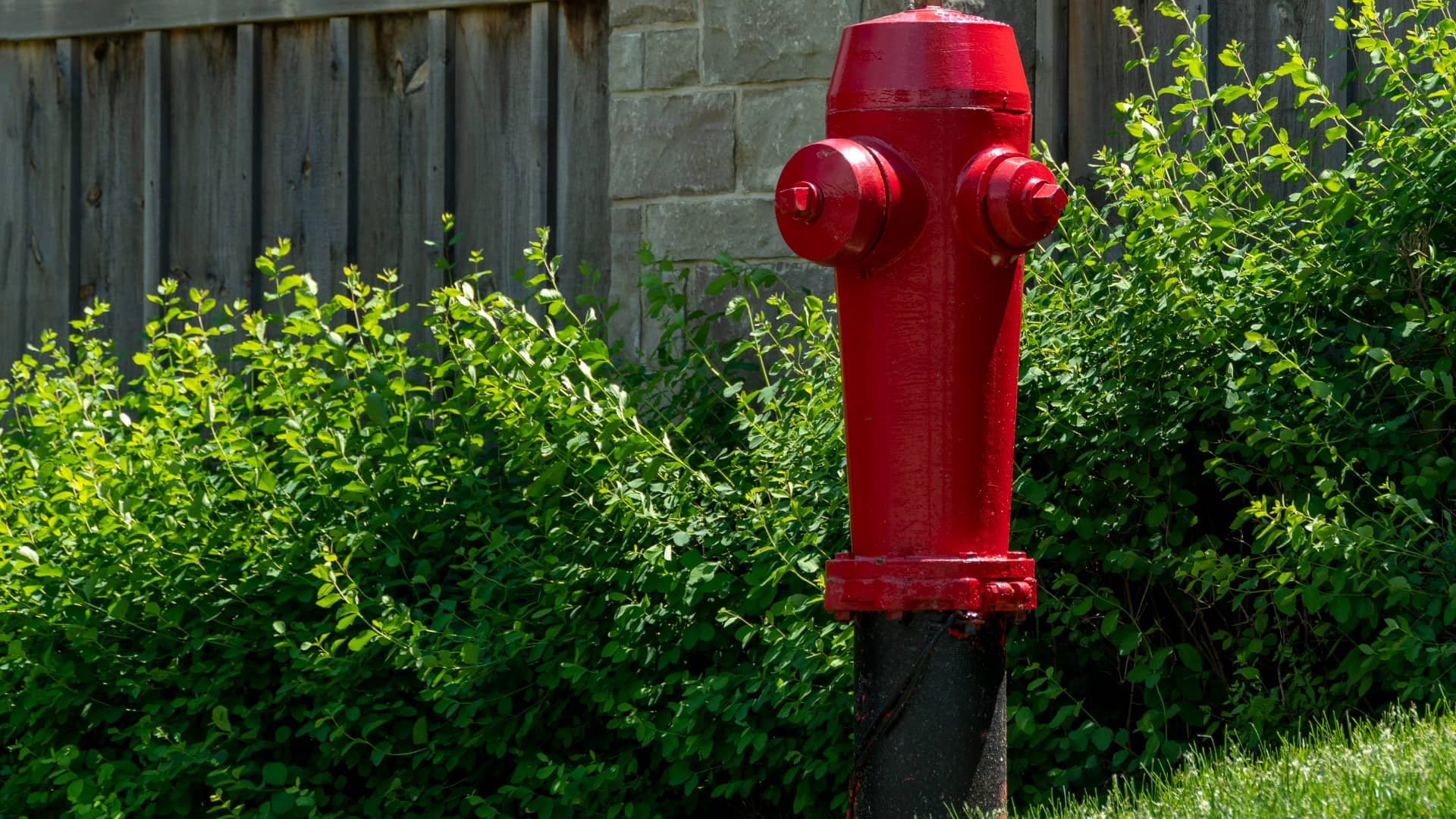 A fire emergency requires a reliable water source with functioning fire hydrants that are easily accessible by the fire department. Although most people don't give fire hydrants much thought, the fire department in your community depends on them as an integral part of the fire safety system. Understanding fire hydrant bylaws will help you ensure that emergency responders have quick access to high-pressure water to reduce the risk of injury, death, and costly property damage.
Here we look at the fire hydrant bylaws you should know in Alberta and BC.
Fire Hydrant Bylaws - City of Calgary, AB
The Calgary Fire Department needs access to fire hydrants free of obstructions. Hydrants on or near your property require at least two meters of clearance between the hydrant and obstacles, including vegetation such as trees, shrubs, hedges, and structures such as fences. Vegetation is limited to grass for the area surrounding fire hydrants near your property.
Property owners must also ensure there is nothing temporarily interfering with access, such as trash or materials for construction or landscaping projects. Anything temporarily positioned near the hydrant cannot be closer than two meters. You also require a one-meter clearance for the area in front of the hydrant facing the street, including vehicles and dumpsters for renovations.
Also, per the City of Calgary, Bylaw number 40M2006, Part XV, Section 40 states:
(1) Unless authorized by the Director of Water Services, no Person shall:
(a) Open or close any hydrant or hydrant valve.
(b) Connect any device of any kind to a fire hydrant, including a pipe, hose, fixture, or appliance
(c) Use water from a fire hydrant, regardless of whether that hydrant is located on private or public property, for any purpose other than fire protection"
In addition to the above, The Calgary Fire Department requires anyone repairing private fire hydrants to take an authorized course either through AWWOA or Local 496.
Fire Hydrant Bylaws - City of Edmonton, AB
Many of the fire hydrant regulations in Edmonton are similar to the ones stated above. Specifically, Bylaw 15309 states:
"No person shall obstruct or interfere with the operation or use of any fire hydrant, emergency use water inlet or outlet connection on a building, fire alarm control panel, manual alarm station or any fire detection device or equipment."
Parking laws, like the rest of the province state:
"Do not park within five metres (16 feet) of a fire hydrant. When the hydrant is not located at the curb, do not park within five metres of the point on the curb nearest the hydrant."
Fire Hydrant Bylaws - City of Vancouver, BC
Fire hydrants in Vancouver require an unobstructed space of 3 feet around the fire hydrant's entire area, including vegetation, parked vehicles, signage, bicycles, etc. Parking is also prohibited within 5 meters of fire hydrants in Vancouver. Property owners must maintain trees and vegetation to avoid damage to fire hydrants. Trees are of specific concern as the roots can damage pipes leading to the hydrant.
For new developments, every building must have an adequate water supply for firefighting. This includes sprinkler or standpipe systems conforming to BC building and plumbing codes.
Alberta's Fire Prevention and Protection Bylaw
Alberta's Fire Prevention and Protection Bylaw is designed to help prevent fires and protect people and property from the dangers of fire. The bylaw is based on the National Fire Code of Canada, Alberta Edition 2019, which references National Fire Protection Association (NFPA) Standards, including NFPA 25: Water-Based Fire Protection Systems.
This standard covers the installation, maintenance, and testing of fire hydrants, which are an important part of any community's fire protection infrastructure. By adhering to the requirements of the bylaw and NFPA standards, communities in Alberta can help ensure that they have the necessary resources in place to prevent and respond to fires.
British Columbia's Fire Prevention and Protection Bylaw
Legislation, regulations, and codes for Fire Safety provide the framework for fire protection to keep communities safe. The bylaws, codes, and regulations address all areas related to fire safety and prevention, from the responsibilities of the local municipality to establishing fire codes and from inspections to enforcing offenses.
The code applies to the entire province, setting minimum requirements to ensure fire safety in buildings, facilities, and the surrounding property. The onus lies on the owner of the building/property to comply with fire codes, and the local fire departments enforce the fire code.
Fire Hydrant Testing: What is NFPA 25?
The National Fire Protection Association (NFPA) provides the recommended practice for annual fire hydrant inspection and maintenance. The NFPA 25 covers many great points for fire hydrant inspection, some of which are a minimum of annual inspections, reinspection after use, and addressing hydrants located in areas with a high groundwater level.
Many municipalities in Canada use the NFPA 25 standards as their starting point for their private fire hydrant inspection by-law. Due to a large portion of Canada having cold winter climates, cities such as Calgary have expanded their by-law procedures to ensure a second fall inspection is completed. This is a vital step to ensure fire hydrants do not freeze due to high groundwater levels or non-draining fire hydrants.
These by-laws are designed to ensure a fire hydrant is operational at any time, in the event of an emergency.
Fire Hydrant Testing: What is NFPA 291?
The National Fire Protection Association (NFPA) provides the recommended practice for fire flow testing to measure real-world pressure and flow for the city's water distribution system. Also known as hydrant flow testing, it identifies available fire flow from a hydrant. It measures based on predetermined minimum water pressures to understand if the water flow available from the hydrant is effective. Testing of available flow rate is needed for new construction developments, existing hydrants, and prior to installing a fire suppression system.
Testing is essential in development as the more connections added, the more demand there is on the system. As of 2022, the NFPA 291 standard now describes two types of flow tests. As was in previous editions of the NFPA 291, there is the multi-hydrant flow test, that uses two or more fire hydrants. The first hydrant, or "test" hydrant, collects the results of the static and residual water pressures. The second hydrant, or "flow" hydrant, obtains the pitot gauge reading. When running the test, the test hydrant is the closest to the new development or area in question, while the flow hydrant is further downstream.
The hydrant capacity test is performed using one fire hydrant. During this test, the static, residual, and pitot pressure are all taken from the same hydrant. This test identifies the flow rate from an individual fire hydrant, which is often used for marking and classification of hydrants by available flow rate.
Why is NFPA 291 Testing Required?
The data identifies the limitations of the system. Improvements can be planned by testing for weak points in the water distribution system, and restorations can be made. Water distribution system capacity tests are crucial to determine when an aging system cannot accommodate new system connections and demand. Fire flow testing provides the following information:
Water availability for fighting a fire
Pressure and flow-producing capabilities
Potential water distribution problems
Evaluation to determine system improvements or replacement requirements
Infrastructure condition assessment data
Insurance premium assessment
Colour-coding of fire hydrants to identify expected flow rates.
Effective planning for building and maintaining commercial or residential structures
How Often Should Fire Hydrant Flow Testing Be Performed?
According to the NFPA 291, public fire hydrants should be tested every five years. However, following significant water main improvements or the completion of large developments, fire flow testing should be completed to identify the water distribution system's abilities.
As part of a thorough fire hydrant maintenance plan, fire flow testing is a must to protect the community against the threat of spreading fires. Fire flow testing is the best way for fire and water departments to plan improvements as a proactive approach to maintaining existing systems. It also ensures that capacity is available for newly developed areas. Plus, annual testing ensures arterial mains are maintained.
How Often Should Fire Hydrant Inspection & Maintenance Be Performed?
The NFPA 25 recommends that hydrants be flushed and inspected a minimum of once a year to verify they are working effectively.
By keeping the hydrants near your property free of obstacles, you contribute to the community's safety. Municipalities and property managers can also arrange for testing. Regular hydrant testing ensures water capacity is available to manage emergencies. It also identifies mechanical issues that interfere with proper operation, cause leaks, or damage pumps used to fight fires.
Get in Touch with the Experts
At Velocity Water Services, we help clients provide a safe and secure environment for everyone in the community. We can handle all your fire hydrant and water distribution system, inspection, and maintenance needs! Click here to contact us today or call toll-free at 1 833.719.8970.