Trench Safety in the Water Industry: Water Main Installation & Repairs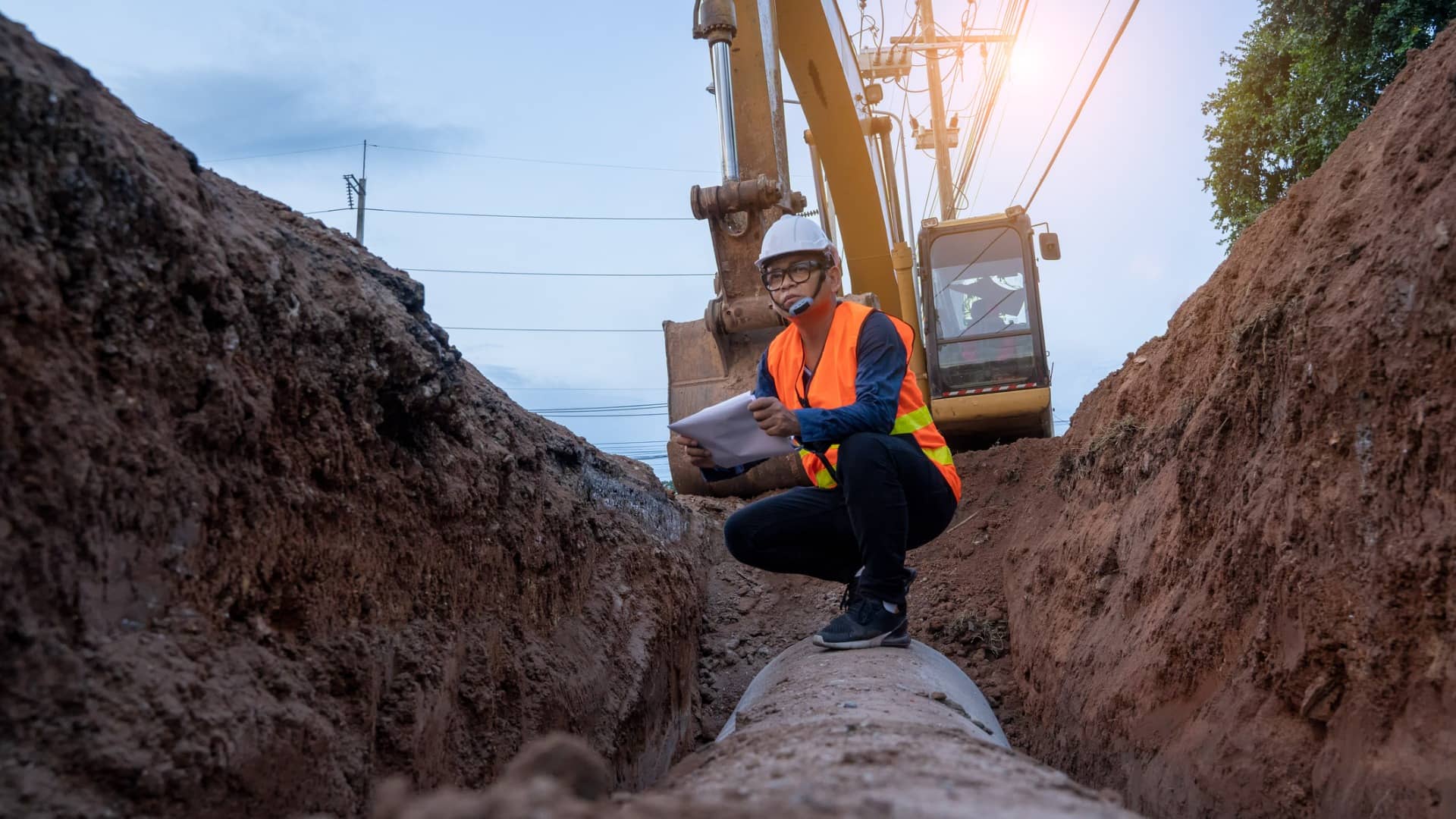 The water main installation and repair process can be very dangerous when not managed properly. A major hazard is presented due to the weight of the soil and the risk of high-pressure leaks. A cubic yard of soil weighs approximately 4,000 pounds, posing a risk of death even when working in shallow trenches. Trench safety in the water industry calls for expertise, planning, and a proactive approach when undergoing water main installation and replacement, as well as water main repairs. Water main installation contractors can avoid trench collapses by taking every possible precaution to create safe working conditions.
Competent Person
Trench safety begins by having a "competent person" on-site during excavation. According to health and safety legislation, competence is defined as follows:
Able to identify existing or predictable hazards deemed unsanitary, hazardous, or dangerous to employees
The authority to promptly eliminate unsafe conditions with corrective measures
Formal training and knowledge of health and safety standards, soil analysis and the use of protective systems
Having an experienced, responsible team lead on-site ensures hazards are avoided or remedied using safe practices to protect workers.
Water Accumulation
When working in trenches, water accumulation presents a clear hazard. Whether there is existing water in the trench or evidence of water accumulating, workers should either not enter the trench or leave the trench as soon as new water becomes present. Adequate precautions must then be taken to eliminate risk. When excavation work interrupts the natural flow of surface water, proper protocols call for diversion ditches or dikes to keep the trenches safe and dry.
Personal Protective Equipment (PPE)
PPE is required for excavation work, including:
Hard hat
Eye protection with side shields
Gloves to protect against specific job hazards expected in trench work and excavation
Approved protective footwear
Respiratory protection
Anyone not wearing proper PPE must either be removed from the job site or provided with PPE.
Pre-excavation and Trenchwork Precautions
Before work begins, underground installations and surface encumbrances must be managed:
Underground Installations
Underground installations include sewer, gas, water, telephone, and electric lines. Contacting local utilities based on customary local lead times to discuss the project is key. Other steps include:
Establishing the location of sewer, telephone, fuel, electric, and water lines.
Contacting and notifying property owners in advance of proposed work based on required local timelines.
Use of detection equipment or other procedures to establish utility locations should information not be provided in a timely manner.
Safe, concise detection of underground installations as work progresses and infringes on identified utility locations.
Protection, support or removal of underground installations as best practices dictate for the work being performed.
Surface Encumbrances
Surface encumbrances include telephone poles, trees, fire hydrants, street signs, sidewalks, curbs and gutters at the excavation site. Arrangements must be made to either remove or support them to ensure they do not present a risk to workers. Specific to water distribution systems, the following precautions can be taken:
Fire Flow Testing: Fire Flow testing determines the quantity and rate of water flow for each fire hydrant within the distribution system.  The tests identify weak points in a water distribution system to proactively spot possible hazards and make improvements in an existing system before work begins. Possible leaks that put trench workers at risk can also be discovered. It is advised Fire Flow tests are run after any extensive water main improvements have been made and then every five years once the improvements are complete.   
Industrial Fire Hydrant Inspection: Industrial sites tend to have strict requirements regarding permitting, orientations, and safety requirements. Whether your hydrants are supplied with potable water or raw water, industrial fire hydrant inspections performed by certified water professionals ensure firewater systems are safe in relation to all water main installations and repairs.
Privately Owned Fire Hydrants: Private Fire Hydrants must be inspected annually and after each unintended operation.  Trench work for water main installation and repairs at private sites is safer, with inspections that identify common issues caused by freezing conditions in the winter. Doing so both before and after installations and repairs will ensure your hydrants and system comply with NFPA preventive freezing standards. 
Trench Design
Before beginning a trench excavation job, understanding the job site is key to safe trench design. Excavation standards should include the following considerations to improve trench safety:
Soil Classification: Soil types identify and help predict the risk for movement and collapse in trench work. Using a scale of 1 to 4, 1 is the hardest and densest, and 4 is the most hazardous with loose, wet, or muddy soil.
Excavation Shoring: The installation of aluminum, steel, or wood panels helps support walls in trenches to prevent collapse.
Trench Boxes: Trench boxes are recommended when work is being completed away from utilities, roadways, and foundations, but do not shore up or support trench walls.
Water Distribution System: Understanding surface water and groundwater sources, as well as the location of the water table, helps improve efficiencies.
Weather conditions: Paying attention to weather forecasts allows employers to plan ahead to reduce the risk for workers.
General safety plan: Understanding the job site ensures every detail is managed, including putting up guardrails, air quality testing, safe entry and exit from the trench, ongoing checks for soil movement and water, keeping new and discarded pipes away from the edge of the trench, etc.
Trenchless Water Line Replacement: Design can also consider whether trenchless work is possible. Without digging required, this is a far safer method and can be a suitable option when the process isn't impeded by too many underground obstructions.
Proper job site studies, in hand with inspections and consultations with utility and city officials, help you mitigate risk when working on water main installation and repairs.
At Velocity Water Services, we have the expertise to handle your fire hydrant and water distribution system inspection AND maintenance needs! Don't begin your excavation until you've discussed your projects with our experts to determine what inspections or WDS maintenance are required to keep your job site safe. Contact us today!